Mixed Age Kindergarten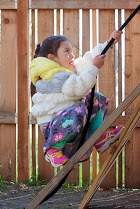 The Windsong Kindergarten is a home-like, secure and loving place that recognizes the young child's need for predictable rhythm throughout the day, season and school year. We offer three years of kindergarten, welcoming younger children's first venture into "school," and preparing veteran second and third year kindergarten children for First Grade. The Kindergarten gently nurtures the development of curiosity, verbal capacities, sequencing, sensory integration, memory, social skills and motor skills that are required for later learning and are the foundation for future school work. This is achieved in a supportive atmosphere free from formal academics.
There is a delicate balance between teacher-led group activities, individual attention and free play. Children are provided with the necessary free play time to practice, and so develop the social emotional, problem solving and motor skills that will serve as a scaffold for life-long learning and health. An atmosphere of warmth and calm holds the children throughout the day in this natural, gentle and wholesome environment where children are given a range of activities and the structure to help prepare them for First Grade.
2017-2018 4-Day Kindergarten Schedule
Monday-Thursday from 8:00 a.m. to Noon **CLASS FULL**
Tuesday-Friday from 8:00 a.m. to Noon **CLASS FULL**
2017-2018 5-Day Kindergarten Schedule
Monday-Friday from 8:00 a.m. to Noon **CLASS FULL**
For the 2017-2018 school year, children must turn three by 3/31/17 to enroll in kindergarten.