Grades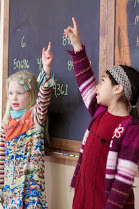 Monday through Friday from 8:00 a.m. to 2:00 p.m.
"The heart of the Waldorf method is that education is an art – it must speak to the child's experience. To educate the whole child, his heart and his will must be reached, as well as the mind."
– Rudolf Steiner
We currently offer grades 1-6.
At Windsong School formal academics begin in first grade with a curriculum that encompasses a wide variety of subjects and activities. Fine and practical arts, music, and movement are infused through all parts of the academic curriculum and are also standalone subjects taught by specialty teachers. The developmental needs of the child provide the framework for the curriculum, daily schedule and the way in which all subjects are brought to the children.
The focus each morning is the main lesson, where reading, writing, math, history, geography and science are taught. Though the curriculum is masterfully integrated, students focus on one subject at a time more intensely in block rotations, and then recapitulate their learning in a future block so as to integrate their learning more deeply. Students design, write and illustrate textbooks for each subject – these "main lesson books" become cherished keepsakes and a source of well-earned pride for the children.  Foreign language is taught by special subjects teachers in a playful way through oral learning. Rather than traditional report cards, teachers provide parents with a thorough written description of their child's work and progress in class. Homework is not given in grade one, in order that the children may continue to reap the lifelong benefits of play, family interaction and contribution to household chores.
Form drawing is introduced in grade one to support reading, writing, spatial discrimination, the development of concentration and an appreciation for beautiful, precise work. During math blocks children will begin working simultaneously with the four processes of addition, subtraction, multiplication and division and will begin to master their math facts (such as times tables) and learn the difference between cardinal and ordinal numbers. Reading blocks introduce children to literacy through their now ripened imaginations. This is a joyful process that captures the wonder of language. Children learn letters by first hearing a told story and then draw a picture based on the story. The picture reveals itself as an ideogram, which children discover and name as a letter. Students learn to read from their own writing, and choral speaking serves to support the entire process. As students and teacher travel together through the grades they trace the arc of human development and learn the true meaning of community.
History begins introducing the children to the foundation of human accomplishment they will one day build upon through humankind's deepest stories, and outdoor days provide the basis for an immersion in nature that continues to cultivate an embodied understanding of the natural & physical sciences.
The focus in grade one is on carefully attending to the birth of the intellect, continuing to devote attention to a healthy physical, social and emotional life, and continuing to allow the imagination to develop fully so that children grow healthy and strong in all ways and are able to take up ever more difficult material with confidence and success in the coming years.