Auction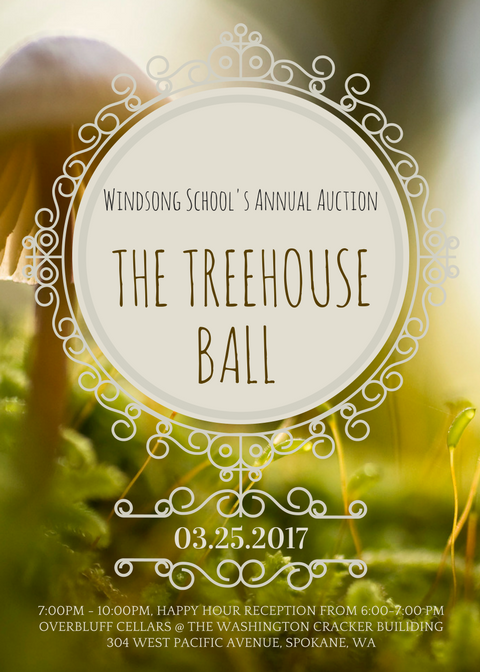 There are limited tickets available for the event, check our auction website for current availability or contact administration.
See below for our list of live auction items!
Be sure to buy a limited edition golden ticket (or several) for $50 at the event for your chance to win any live auction item of your choice!
There are only 50 golden tickets available!
#1 Greenhouse Chef Dinner for 6
Enjoy a magical evening dining in a beautiful greenhouse. The evening will begin in the garden with a cocktail hour and hors d'oeuvres. You and your guests will then feast on a four-course dinner with wine.
Thanks to Christine and Will Quinn ~ Value: $750

#2 Two Nights at the Farmhouse on Dry Creek
Located just north of Chewelah, Washington, the Farmhouse on Dry Creek is part of a working farm. Come enjoy a weekend of peace and tranquility. Enjoy the hens and cattle grazing as you commune with a simpler time without giving up the comforts of home.
Thanks to Denise Ebbighausen ~ Value: $400

#3 Wine Barrel
A gorgeous upcycled wine barrel filled with a variety of local and imported wines.
Thanks to The Gauss Family and the Windsong Community~  Value: $600

#4 Family Photo Package
Family portrait session with Dave Ainley Photography, one of the most sought after photographers in the area. Experience a different approach to portraiture that taps into the genuine personalities of each of your family members. During your three hour session, take advantage of unlimited locations and up to 3 wardrobe changes per person.
Thanks to Dave Ainley Photography ~ Value: $350
#5 Coracles
Take a piece of Windsong home! Handcrafted out of willow boughs and canvas, these 2 person, seq-worthy boats were handmade as part of their curriculum by Mrs. Bower's third grade students.
Thanks to the 3rd grade class and Kurt Gauss ~ Value: Priceless

#6 Vasectomy Package
For the man who has it all! If your biological clock has stopped ticking, perhaps it's time to get things tied up once and for all?
Thanks to Planned Parenthood ~ Value: $725

#7 Hand-blown Art Glass Sink
Upgrade the look of any bath or powder room with this stunning, one of a kind, hand-blown art glass sink by artist Eric Anderson.
Thanks to Nancy Anderson ~  Value: $1,400

#8 Waldorf Playroom
Bring the magic of early childhood home with this gorgeous wooden playroom set including a pair of  handmade wooden playstands with arches, 2 hand-dyed playsilks, a step boat, and a rocker board.
Thanks to Ziggy's lumber, Tammy Drew, Ana Trusty, Aaron Mark, The Feathered Phoenix, and Mike Bowers   ~ Value: $950
#9 VIP Parking 
Spend the next year parking in a space reserved just for you! No more hunting for parking at busy drop-off and pick-up times. Reserved space beginning 3/27/17 until next year's auction.
Thanks to Windsong School ~  Value: Priceless

#10 Cave Tubing and 4 Nights in San Ignatio, Belize
Take in the rain forest-like atmosphere, tropical animals, and the Macal river, all while spending your nights unwinding in a cozy air-conditioned cottage for two at the Midas Resort. Spend a day enjoying a cave tubing excursion through the Caves Branch Archeological Site. Trip must be taken by January 10, 2018. To view resort, visit www.midasbelize.com
Thanks to Trips 4 Fundraising  ~ Value: $800
#11 Handmade Quilt
A gorgeous gray, blue, and orange handmade bicycle themed quilt.
Thanks to Jaycee Magee ~  Value: $400

#12 Guided Mountain Bike Excursion
One day mountain bike adventure guided by Board President, Shane Freeze followed by a BBQ. The guide is able to customize the excursion to meet the riders ability. Room for four riders.
Thanks to Shane Freeze ~ Value: $320
#13 Physzique Fitness 12 Week Challenge  
Get in shape and have a chance to win $1000! The 12 week challenge includes unlimited personal training sessions, an easy to follow customizable nutrition plan, and cash prizes for the top three challengers at each studio location!
Thanks to Physzique Fitness  ~  Value: $400

#14 Build Your Own LuLaRoe Wardrobe
Pick out your very own capsule wardrobe in Brynn Perry's Lula Room! The Wardrobe includes 2 pairs of buttery soft leggings, 3 shirts, 1 dress, 1 skirt, and your choice of 1 kimono, vest, or cardigan.
Thanks to Brynn Perry ~ Value: $325
#15 A Year of Family Fun
Contains 4 general admission plus your choice of a Documentary IMAX, Planetarium Show, or Laser Show at the Pacific Science Center in Seattle, 4 upper box seats to any 2017 regular season Spokane Indians game, 4 passes to Triple Play's Raptor Reef water park,  4 one hour jump passes to Get Air Spokane, and 6 tubing hill tickets to use at Mt. Spokane Ski & Snowboard Park during the 2017-2018 season.
Thanks to Pacific Science Center, Spokane Indians, Triple Play, Get Air Spokane, and Mt. Spokane Ski and Snowboard Park  ~ Value: $400
#16 Upcycled Artisan-made Wooden Bench
Gorgeous, hand-crafted, one of a kind, custom, wooden bench made from reclaimed materials. This bench was created exclusively for our auction by an anonymous local craftsman ~ Value $1,500